Culture, community and collectivity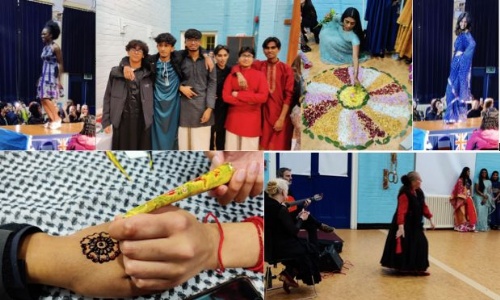 Sixth formers host a celebration of cultural diversity and togetherness
Urmston Grammar is home to students from a host of different nationalities, ethnicities and cultures. And on Friday evening, staff, students and their families were invited to join a celebration of this wonderful variety and unity.
First, there was food to be sampled; then there was flamenco dancing both to watch and to take part in; and there was flower rangoli to admire. To top it all off, the sixth form hosts proudly flaunted the fashions of their heritage on the catwalk to a background of trans-global beat music.
Headteacher, Mrs Wall, congratulated those in the sixth form who had organised the event, saying: "I was so proud that you wanted to use this event to celebrate our uniqueness, honour our diverse heritage but remind us all that we are connected as part of the UGS community."